Seattle in October

Hummed to the tune of "Singin' in the Rain"

Cherie and I flew to Seattle to spend the long Columbus Day holiday weekend with Matt, who had a four-day pass from nearby Fort Lewis.

Seattle was terrific—Pike Place Market, coffee shops, the Space Needle, coffee shops, Pioneer Square, coffee shops, the Underground Tour, coffee shops, harbor-side restaurants, coffee shops, shopping, coffee shops, pubs, and coffee shops.

But best of all was spending time talking with Matt over dinners and drinks, walking the streets with him, oogling museum exhibits together—just being with him.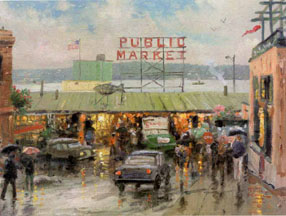 "Pike Place Market, Seattle" by Thomas Kinkade
from www.galleryone.com