Home



Photo Album



Recipes



Reviews



Date Book



Links



E-mail Us

Austin, Texas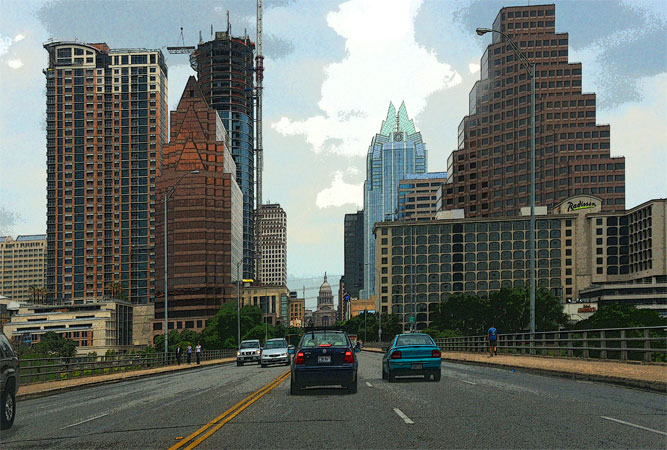 I may make fun of Texas from time to time—largely because Texans can't seem to make fun of themselves—but Texas really is a pretty neat state if you can get beyond the swagger.
We wanted to visit Austin, the state capital, because of its reputation for vibrancy. Sure enough, it is vibrant, as most college towns and financial hubs are.
Located in scenic rolling hill country, Austin is pretty snazzy looking as you approach it on Congress Avenue crossing the Colorado River and looking toward the capital building. Makes you wonder, so what is this city doing in Texas?
| | |
| --- | --- |
| With so many restaurants and cafes to choose from, where did we end up for lunch? At one of Cherie's favorite restaurants, McCormick and Schmick's, to sample the seafood. This road trip was one long gastronomical seafood extravaganza, so we weren't going to end the streak in Texas. | |
If you want vibrancy, 6th Street is the place to find it. The streets are lined with bars, restaurants, nightclubs, and shops, some of them selling things I don't recognize.

At the same time, the elegance of old Texas still imbues the neighborhood through its stately buildings, such as the Driskill Hotel, left.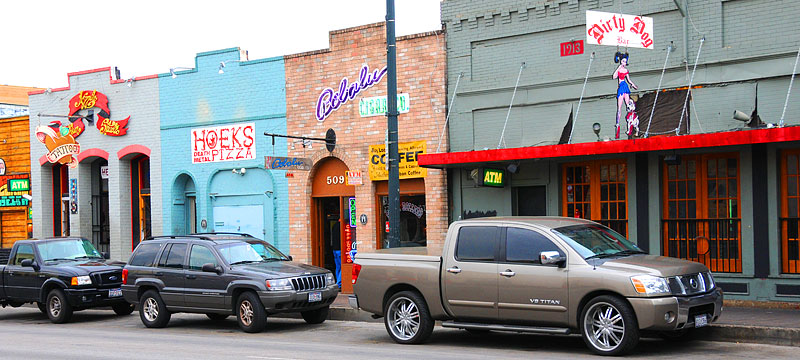 This isn't where one goes to get a quiet glass of wine and enjoy muted conversation, methinks.
Austin bills itself as the "Live Music Capital of the World." A street sign on 6th Street captures the essence of the city.

Being a college town, where do the poor students go for a meal and a beer? Perhaps to Daddy's Grill and Bar.

We can relate.
Did we mention that we think many Texans are, well, um, "nutty?"

See Exhibit A at left, and Exhibit B below.
Lest you think I would ever call Cherie nutty, let me clarify: that's not the case at all. She just admires strong-willed women, like Angelina Eberly, whose over-the-top attempt to keep the state capital in Austin is memorialized downtown with her statue.

Read her story below.

Uh, Cherie, watch where you're putting your hand. People may get the wrong idea.
| | |
| --- | --- |
| | Turns out we did find a quiet place for a nice glass of wine, the Cork & Co, on Congress. Nice jazz, good selection, comfortable tables and couches. Great place for unwinding at the end of a busy day. |
And on our way out of town after a whirlwind tour of the city, we stopped at the Whole Foods Market headquarters and flagship store. Seems you could literally live in this store, and you certainly wouldn't go hungry, just feasting on all the samples offered in the various food departments.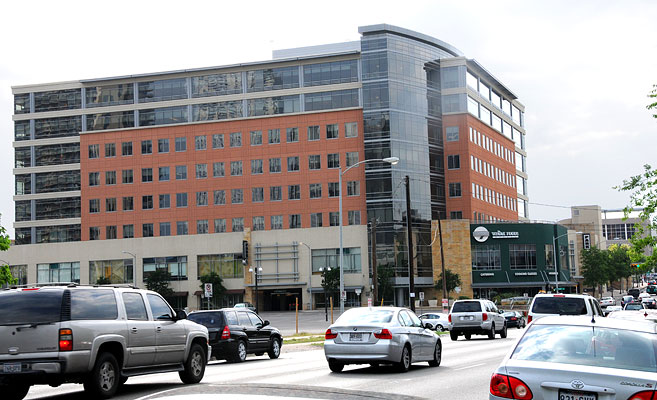 Return to the Florida Road Trip page or to the Family Photo Album