Despite the destructiveness of Hurrican Katrina and the floundering of "you're-doin'-a-heck-of-a-job" Brownie's FEMA, the French Quarter continues to exude charm, sexiness, and the easy life to the beat of local jazz and blues bands.
---
Unfortunately, huge swathes of the rest of the city are laying in abandonment and decay, as areas to the north and east (where our hotel was) of the French Quarter were devastated and never re-built. Whole neighborhoods of houses rotted to the tops of their roofs by water damage might speak volumns about our national character.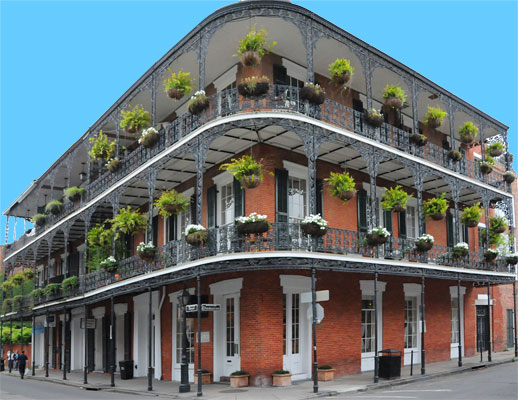 The prototypical New Orleans style building, left, at the corner of Royal and Dumaine Streets shows off its wrought iron balconies and potted plants. We passed it as we wandered our way toward a jazz concert at an off-touristy corner of the Quarter.
---
A jazz parade careened down Royal street, trailing party-ers swaying and handing out flowers, which I promptly gave to my sweetie (and she promptly gave back to me: "I'm not carrying THIS all around town"). I still have it—stop by and share a drink with me and I'll show it to you, it's a beautiful reminder of the city.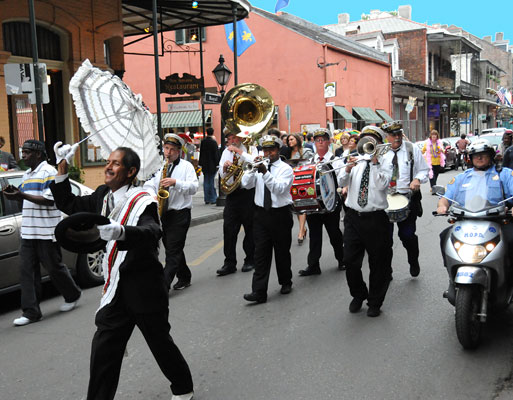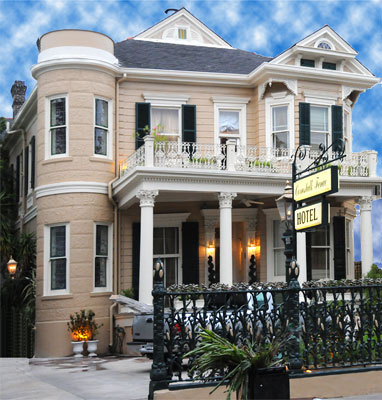 The Cornstalk Hotel, left, is a beautiful Victorian mansion with a row of cast iron cornstalks as its fence, reportedly to soothe a previous owner's bride from Iowa.


---


I'd give a day's wages (oops, I don't work anymore) to hear the conversations of these couples, at right, walking Bourbon Street. Maybe they, too, are from Iowa...they look a bit, what, judgemental?
(Hey, Merle, you see that voodoo sex charm with them them thangs dangling from it?)