San Diego
A drive up the California coast, begins, by definition, in San Diego. Not just because it is the southernmost point, but because it allows us to spend some time with Sal and Jake, chasing beers and the green flash on beaches at sunset. And Cherie and I actually saw two green flashes in two succeeding days—not bad, considering I didn't see any the entire year we lived there.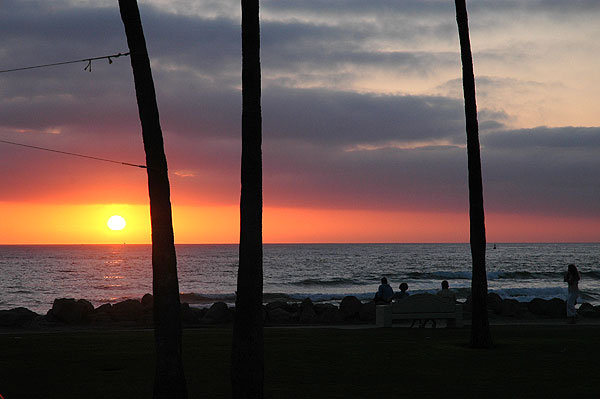 The first green flash was seen from Ocean Beach, where Sal, Cherie and I had a sunset snack at Shades Cafe. This photo was taken shortly before the flash, which occurs just as the sun dips below the horizon
Sal and Cherie are lined up at the railing overlooking the beach in Ocean Beach. Sal exclaimed that we were on a good party pace, "Four bars in three hours!"

Hmmm, let's see. Red Sails Inn, South Beach Bar, Pacific Shores Bar, and Shades Bistro. Dang, he's right.
Visiting Old Haunts

We stopped at some old-time favorites while there, like the Red Sails Inn, at left, where Cherie had a mimosa with breakfast

And her favorite clothing store in Seaport Village, Crazy Shirts, where she stocked up on shirts and shorts for the vacation.
| | |
| --- | --- |
| Sal is a happy man in San Diego—sun, surf, sunsets, and palm trees to waft the ocean breezes inland...and oh yes, Jake to chase around Dog Park | |
| | | |
| --- | --- | --- |
| | After shopping at Seaport Village, we chilled out at the Ocean Beach Street Fair, where food and merchandise vendors filled Newport Street (in the far distance at left) and revelers filled the beach | |
Sal has a nice night-time view of the harbor from his Point Loma home. Cherie thinks having a summer home in San Diego would be a swell idea, so just in case we win the lottery, we did a couple of hours of house hunting in Sal's neighborhood.



We decided the view from this house's patio would be tolerable. Overlooking the city, the only thing missing is a glass of wine to toast the sunset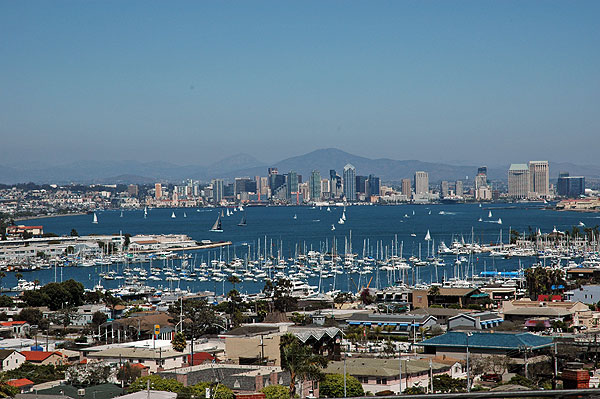 ---
Return to the California Postcards Page


North to Los Angeles

— or —

Return to the Family Photo Album