Visiting Pam and Arcelia in Los Angeles
It had been years since we'd seen Cherie's cousin Pam. When we lived in Germany, Pam would stop by between modeling shoots in Italy and England. But since we moved to Arizona and she to Los Angeles we've not often crossed paths. So a drive up the coast was a great chance to get reaquainted and meet her friend Arcelia.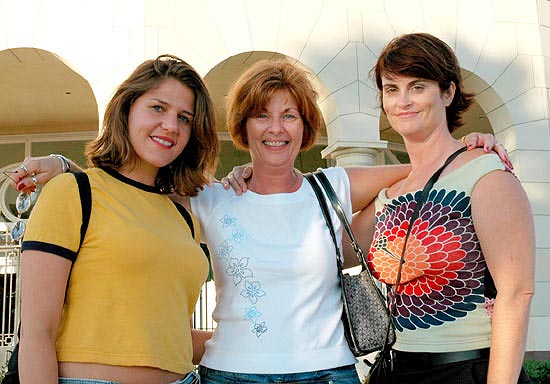 Arcelia, Cherie and Pam are bosom buddies in front of the Hotel Casa del Mar on Santa Monica beach.
| | |
| --- | --- |
| The west coast is all about the beach. Los Angeles in no different. Pam took us to Santa Monica to walk along the hip and hip hop Venice Beach, then a stroll north to the Santa Monica beach and Pier. | |
| | |
| --- | --- |
| | The pier is a great summer escape. Cool breezes off the ocean, lots of girls in skimpy clothing, amusement rides, street performers, carnival food, and views of the Santa Monica Mountains and beach. |
The Hotel del Mar is a classy joint with a bar that overlooks the beach between Venice and Santa Monica. We stopped there to quench our thirsts and take a short break from our beach strolls. If you pass your mouse over the photo at right, you'll see how Pam can light up a scene — even an already beautiful palm beach scene — with her presence

Not quite as photogenic, but happy nonetheless, are yours truly on vacation
| | |
| --- | --- |
| | A stroll along Venice Beach is vaguely reminiscent of one along the boardwalk in Atlantic City—lots of beach shops with tee shirts, blaring music, roller bladers competing with strollers for the side walk, palm readers, young men with tatoos and buldging muscles (it IS Venice Beach, after all), and street musicians. If you need an afternoon of entertainment, look no further |
| | |
| --- | --- |
| Venice got its name from the canals built in the area. It's a quaint section of LA, with pedestrian footpaths and bridges, colorful houses, lush gardens, small boats, and panache. | |
| | |
| --- | --- |
| | From Venice we drove up Lincoln to downtown Santa Monica for dinner at the Border Grill. I found their business card in the restroom. I started looking around for an attractive gal to give it to ... and found Cherie. Run the mouse over it to flip it over. |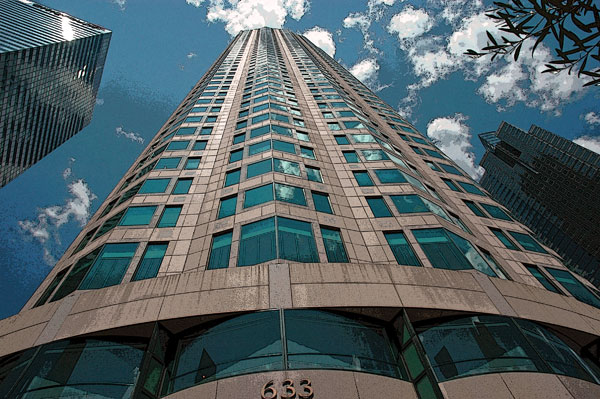 The US Bank Tower in downtown L.A., at 1,018 feet, is the tallest building west of the Mississippi River


Pam took us downtown to visit the world's shortest funicular railway, Angels Flight, which at one time connected the wealthy folks who lived on the hill in L.A. with the central market below. Unfortunately, this attraction, featured in a Michael Connelly murder mystery, was closed. Instead, we wandered the city's surprisingly hilly streets

Fascinating facts about the US Bank Tower:
•The Bunker Hill Steps, at left, a variation of Rome's Spanish Steps, wrap around the west side of the base, leading up to Bunker Hill
•Designed to withstand an earthquake of 8.3 on the Richter Scale
•Tallest building in the world located in a major seismic region.
•Until March 2003, the building was named Library Tower after the Los Angeles Central Library across the street
•First building to be destroyed by alien invaders in the 1996 movie "Independence Day"
The Central Market is a polyglot of languages and color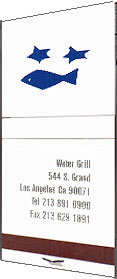 Pass your mouse over the matchbook to open it up
Pam took us to the Water Grill in downtown LA for a late afternoon dinner. We were three of the very few people in the restaurant, and we got personalized service from the wait staff, the bar staff, and the bus boy. It was a heavenly, memorable meal—the seafood and wine pairings were out of this world. Then again, California is America's food and wine basket. To top off the meal, the waiter provided a 30-year old tawny port as an after-dinner drink. Ummm. Meals don't get better than this.

After dinner, Pam gave us a windshield tour of Los Angeles, Beverly Hills, Bel Air, Brentwood, and back to her home in West Hollywood. Tres chic.

Being immersed in LA, she's writing a script for a show she hopes to produce and sell to one of the studios as a television series. The story is based on her experience in one of LA's institutions, and listening to her tell the story was one of the trip's highlights. If she can write it as well as she tells it, it may show up on your TV some night. Stay tuned.
---
Return to the California Postcards Page


North to Santa Barbara and Solvang

South to San Diego

— or —

Return to the Family Photo Album