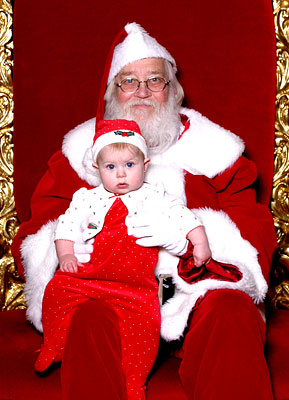 Christmas in America,
And where do we head?
To the mall, of course,
From morning 'til bed.
A little cynical, maybe, but if you want to hear the sounds, watch the lights, and feel the rush of the season, head on over to the local mall for a little action.
Start with a visit to St. Nick, the ever jovial old man himself, who asks all the boys and girls in town what's their heart's desire for Christmas.
Ally is caught a bit off guard by the question, staring into space to contemplate whether "World Peace" or "A Barbie Doll" would be the appropriate answer. Or maybe it's just "I want my Mommy!"