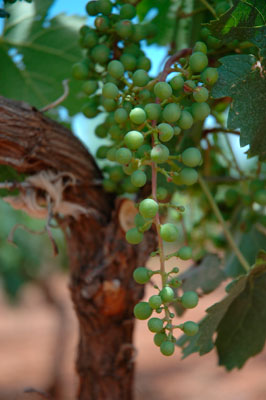 New vineyards are sprouting up all over the mountain valley west of the Huachucas in the areas of Sonoita and Elgin.

In early summer the grape fields are full of promise for the wine growers of southern Arizona. Surrounded by mountains, nestled in grassy ranch land, the growers plant their vines in the thin soil knowing that the hard-scrabble terrain, summer rainy season, and long days of intense heat will bring a harvest of bottled sunshine. The area around Elgin, a 30-minute drive from Sierra Vista, is fast becoming a wine mecca, with new wineries opening every season.

At left, the grapes at Callaghan Vineyards are beginning to take shape and color as they hang juicily on the vines growing in the red soil.