A statue honors the copper miners

Bisbee, Arizona, holds an annual race, the Bisbee Stairclimb, with a course covering over 1,000 stairs in the mountain mining town. Our friend Linda and I went for a leisurely walk along the course in January '03 to enjoy the exercise and Bisbee's unique architecture.

Many of the stairs in Bisbee were constructed during the depression by the WPA.

A sign commemorates the 1,000 stair climb race, which raises funds to restore the city's stairs.
---
Looking for Inspiration to Begin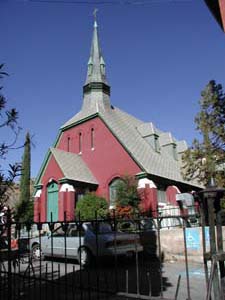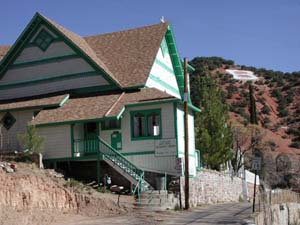 Bisbee's church architecture reflects the styles generally found throughout the U.S.–Catholicism's roots in the old world, Methodist's working class origins, and the Episcopalian's transition between the two. St. John's Episcopal Church, at left, turned 100 years old in 2003. The Methodist church at right may be the home of Marianne Maculyea, the minister friend of JA Jance's fictional Joanna Brady, sheriff of Cochise County. JA Jance is a nationally renowned mystery writer who grew up in Bisbee and bases her Brady mystery series in the area.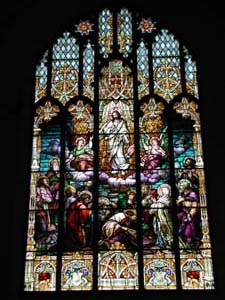 St. Patrick's Cathedral's Victorian stained glass windows were crafted by Emil Frei and installed in 1916. The church was opened in 1917.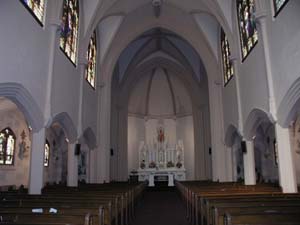 Stations of the Cross

Statuary and stained glass illuminate the life of Christ.

St. Patrick's cool quietude beckons behind its massive unlocked doors.


A detail of Frei's colorful windows

---