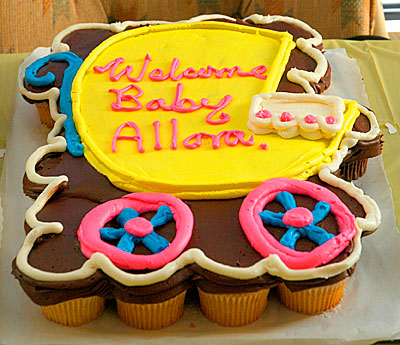 ...does a March shower bring an April flower? Anna's baby shower, for our soon-to-be granddaughter Allora, was at the end of March. I don't know how women do it—sit around eating dainty sandwiches, playing parlor games, and watching a pregnant lady unwrap more presents than Santa can fit in a sleigh. But they do, and they seemed to have a good time doing it.

Now the countdown begins for Allora (or my little Allie Cat). She's due on May 5th, but Anna looks like she could deliver any day now.

Anna's mom Angela provided the cake for the shower—a clever arrangement of cupcakes covered with a colorful frosting. See what I mean about dainty?