360º views
of the city
from Coit Tower

---

North Beach: Columbus Ave and Little Italy
North Beach, along Columbus Avenue, was the beating heart of the Beat scene in San Francisco in the 1950s. The artsy, quirky neighborhood retains its character, and we soaked it up at the Rose Pistola Italian restaurant, drinking and dining on the sidewalk while watching the modern-day hip walk up and down the street.

Once the haunt of Jack Kerouac and Allen Ginsberg, who held court in the area's cafes during the 1950s, North Beach still sports the iconoclastic "City Lights" bookstore, right, where I bought Kerouac's "On the Road" to get a feel for the beat generation.
(My not too kind review is on our "Reviews" page.)

One of area's bars displayed its own "city lights" in its window, below.

At far right, Cherie savors the Italian food at Little Italy's Rose Pistola Restaurant sidewalk table.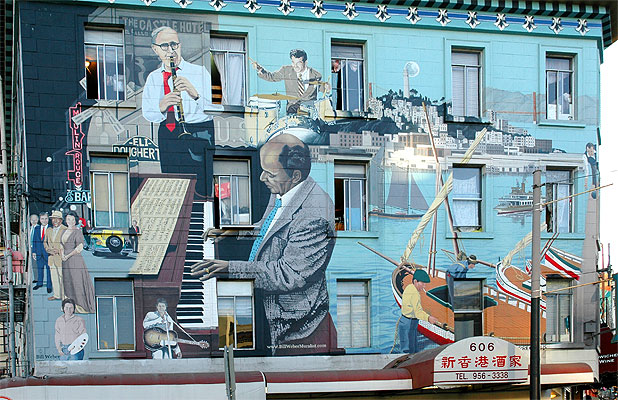 Standing at the corner of Columbus and Broadway, the worlds of culture and decadence collide. With the City Lights bookstore behind us, looking left we see muralist Bill Weber's ode to San Francisco and jazz greats on a building that variously held a bank branch and a strip club. To the right is the heart of sleeze, with the "hungry i" club in the distance, and to the left of "Big Al's", a bit of the brick facade of the original Condor Club, the "birthplace of the world's first topless and bottomless entertainment."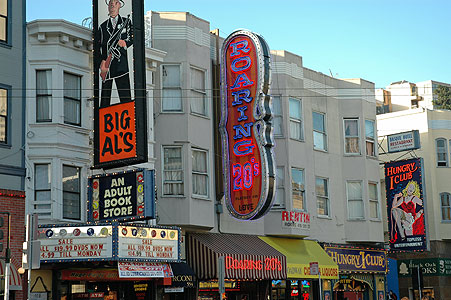 ---
And speaking of ladies of the night...
San Francisco's Painted Ladies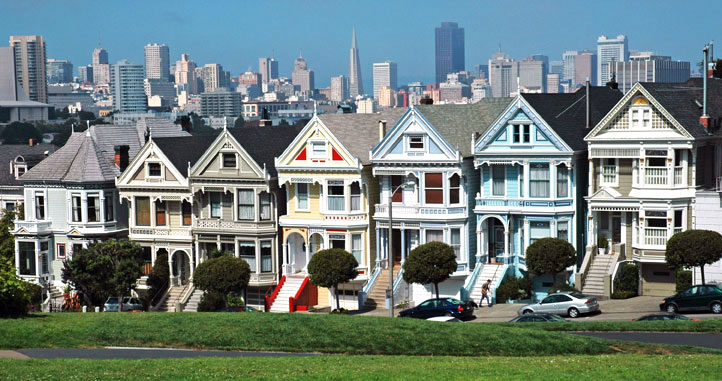 Across from Alamo Park, not too far from the Haight district on the west side of S.F. is one of the most frequently photographed city landmarks—a row of Victorian Houses that fronts San Francisco's skyline. Yes, if you were a fan of the TV show "Full House," you'll recognize these ladies from the show's opening scenes. Groovy!

| | |
| --- | --- |
| And my favorite lady in San Francisco, and everywhere else, was the best present on the birthday I celebrated in California | |

---
Land's End
On the far west side of San Francisco lies land abuting the Pacific Ocean, an area that has largely been preserved from development so city dwellers can reconnect with the bigger forces that shape our world—the pull of the ocean, the push of the wind, the fire of the sun. On my 56th birthday I was able to feel those forces as we wandered along that area of the peninsula appropriately known as Land's End. We had an early morning breakfast at the Cliff House, which overlooks the ocean and the opening to the bay area, not far from the Golden Gate bridge.

| | |
| --- | --- |
| | The Cliff House, a San Francisco treasure and tradition since 1863, offers great meals and great views from its window tables. To see a video of the restaurant, turn on your speakers and follow the link to the Cliff House web site. |

| | |
| --- | --- |
| Cherie enjoys her first coffee of the morning in the restaurant | |

| | |
| --- | --- |
| | An egret strolls through the ruins of the Sutro Baths adjacent to the Clff House |

| | |
| --- | --- |
| The ever-lurking fog of the bay area moved in to blur the outlines of the Golden Gate Bridge when we visited the Old Presidio, Fort Point, and the bridge. Run your mouse over the photo to see that Cherie, too, occasionally uses the camera. | |

And we leave San Francisco with a memory of her golden sunsets over the bay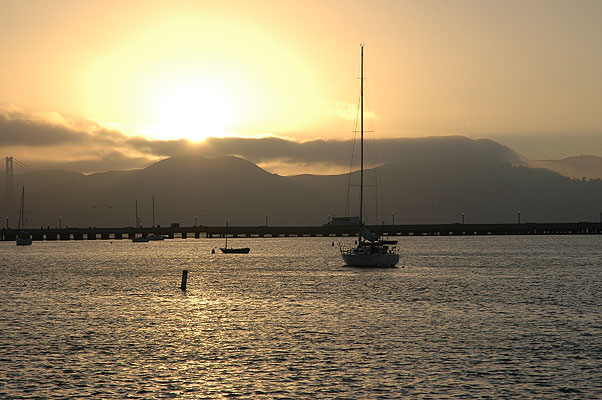 ---
Return to the California Postcards Page


North to Napa Valley

South to Monterey

— or —

Return to the Family Photo Album