Ally and Her Noni

Ally came to visit in mid June (at five weeks old), and though we don't have a movie camera, we snapped a bunch of photos to capture her moods as they played across her face.

Cherie's mood when Ally is around, on the other hand, never changes. It is constant happiness. Mine too, and I like to think Ally only has eyes for me—and have these pictures to prove it.

Ally's inquisitive personality, and strength, show in these photos. She was lifting her head and craning her neck on the day she was born...and hasn't stopped since.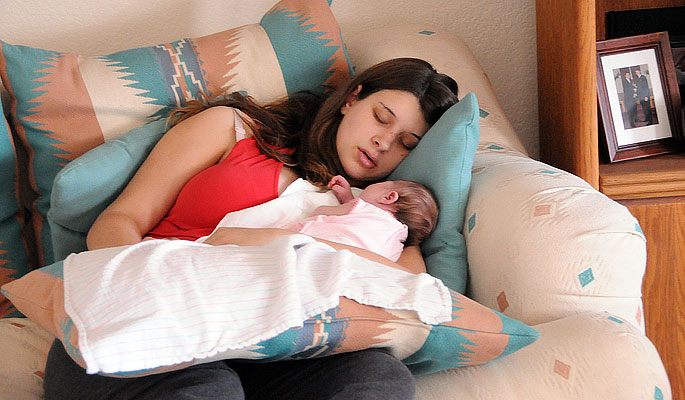 Anna finds this mothering thing can be pretty tiring. Here Mom and Ally take a cat nap on the love seat.
Daddy's Turn

Mike gets some quality time with Ally, too, left.


But he soon learns there is no substitute for a baby's mother...as Ally gets hungry and starts sucking whatever she can get her lips around, below.

Okay, we'll give her the benefit of the doubt and assume she's just giving her Daddy a kiss.
---

Ah, c'mon, grandma, move your hands and let grandpa take a picture of my nice outfit.


---

There, that's better. See how I've got a D a d d y shirt on for Father's Day?


---

By the way, Noni, I like the white shawl. Pick it up in the Baby section at Target, did you?
Facial Language
She can't talk, but she sure can communicate with her Noni

---
Return to the Family Photo Album
Page last updated