Caught in the Headlights
Most people hate to have their picture taken, which is why most people groan when I pull out the camera. And so, to those long-suffering souls who put up with me and my camera, I dedicate this page of snapshots to your ability to smile in the face of ... well, when looking at my ugly face.

To Reunions with Fast Friends!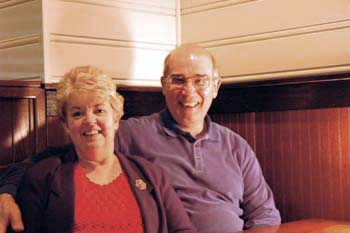 Lenny and Cindy at the Fish Market in Lansing
Lenny and Cindy are friends I met at Cass Tech High School in the 1960's. We don't see each other often, them living in Michigan and us in Arizona, but time and distance vanish when we meet.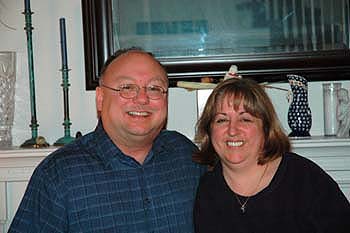 Cal and Casey in their home in Clinton Township
I met Cal when we were interns at the Tank-Automotive Command in the late 70's. We also spent a year together at Syracuse University in '89/'90. Cal helped me carry Cherie home from Bourbon Street in New Orleans in 2003 -- he and we have been through a lot together.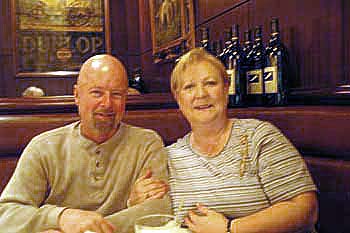 Mark and Cyndi at the Capital Grill in Somerset Mall
I met Mark when working at the Detroit News in the 1972. Cherie met Cyndi while working at St. Joe's Hospital. Mark and Cyndi introduced us on a blind date in 1976, and we've all been best friends since. Last year we celebrated our anniversaries together on a cruise, next year we hope to do the same

To Mutant Relatives!
I've known Shelley since she was five years old. She hasn't changed much.
| | |
| --- | --- |
| Shelley buys Jessie WAY too many clothes. Here's Jessie's shoe closet | She built a rubber room in her home to house the men in her life. We can see why |
Her pre-teenage mutant children have sprouted colorful un-nameable apendages



Shelley and Jon's family at Jane's "cathouse". Meow!

To Family Get-Togethers!

Dinner at Jumbo's in Owosso is a sort of family tradition. Jane's and Shelley's family is joined by Tim's family and Uncle Wayne.

We gathered around Jane's table for a home-made lamb chop dinner fresh from the farm. Shelley couldn't eat the fuzzy creatures, but the rest of us weren't much bah-thered by it.

Garrett gets a chuckle out of cousin Jason's aptly named hat

Cherie loves to chat with her adorable rubber-faced Jon
Return to the Michigan Page

or Return to the Family Photo Album