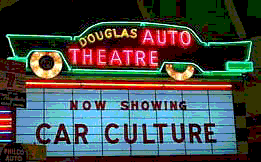 A Drive Down Memory Lane
Going back to Michigan gave us a chance to reconnect with our past, seeing friends from school and former jobs, driving by houses we used to live in, visiting our dearly departed parents and grandparents resting in cemeteries around Michigan, and reliving our childhood through a stroll through the Henry Ford Museum.
No drive down memory lane would be complete without the philosophic humor
provided by the old Burma Shave signs, as this set found in the Ford Museum.
---

Old (Folks) Homes

We stopped in old neighborhoods in Warren and Royal Oak to relive memories of dating and starting our family together. Cherie's grandmother's house in Royal Oak is where I wooed her while she lived with Grandma Florence and worked at St. Joe's Hospital.

And below is our home in Warren where we raised Mike and Matt through their very early years before moving to Germany
---

Haunting Old Cemeteries
We visited my mom, Cherie's folks, and Cherie's grandparents while in Michigan. The conversations were sorta one-sided, what with them being below ground and all, but their memories were very real.
While we were in the cemeteries, we also poked around to see their friends and neighbors -- to check who they were hangin' around with these days.

Almost as if a hand were rising from the grave and warning us, this headstone sent chills down our spines. "Remember me! And enjoy the quick while ye can" it seemed to say.

These tombstones reminded me of Boot Hill in, well, Tombstone. Jessie, Shelley, Cherie, and Jon line up behind the headstones that chronicle the lives of past sojourners.
So is this the newest thing in grave markers -- bucolic depictions of the peaceful existance from which the dead departed,
or to which are headed? When did this headstone art form become a graveyard fashion?

---
Henry Ford Museum
When we were children, we sometimes took the long drive into the country to visit the Henry Ford Museum and Greenfield Village in Dearborn, Michigan (home of the world headquarters of Ford Motor Company).

This time we found the museum surrounded by suburban housing and strip malls, and the relics in the museum where objects we grew up with: Train transportation, Howard Johnson neon signs, hand-crank washing machines, Burma Shave placards, jukebox selectors at the tables, white-wall Nash automobiles. Makes us wonder, why don't they just stuff us and set us up beside the 25¢/gallon Texaco gas pumps?
| | | |
| --- | --- | --- |
| | Speaking of relics (only kidding), Betty worked for a while as a docent at Greenfield Musuem, and she recreated those days in telling us about a colonial homestead kitchen. Run your mouse over the picture at left to see Betty in action. | |
The museum is a masoleum of the mechnical—from the iron horse to presidential limos dating back to WWII.

President Roosevelt's and Truman's limo is below, while the wood-burning locomotive dating back to the civil war still looms high over visitors in the transportation section of the hall

| | |
| --- | --- |
| Neon lights from the 50's lit the way to Lamy's Diner, a relic of fast food joints before McDonald's and other burger stops became ubiquitous. Cherie and I well remember dropping quarters into tableside jukeboxes to play popular vinyl-sided tunes from the 70's. | |
Return to the Michigan Page

or Return to the Family Photo Album